house
staude
melville, johannesburg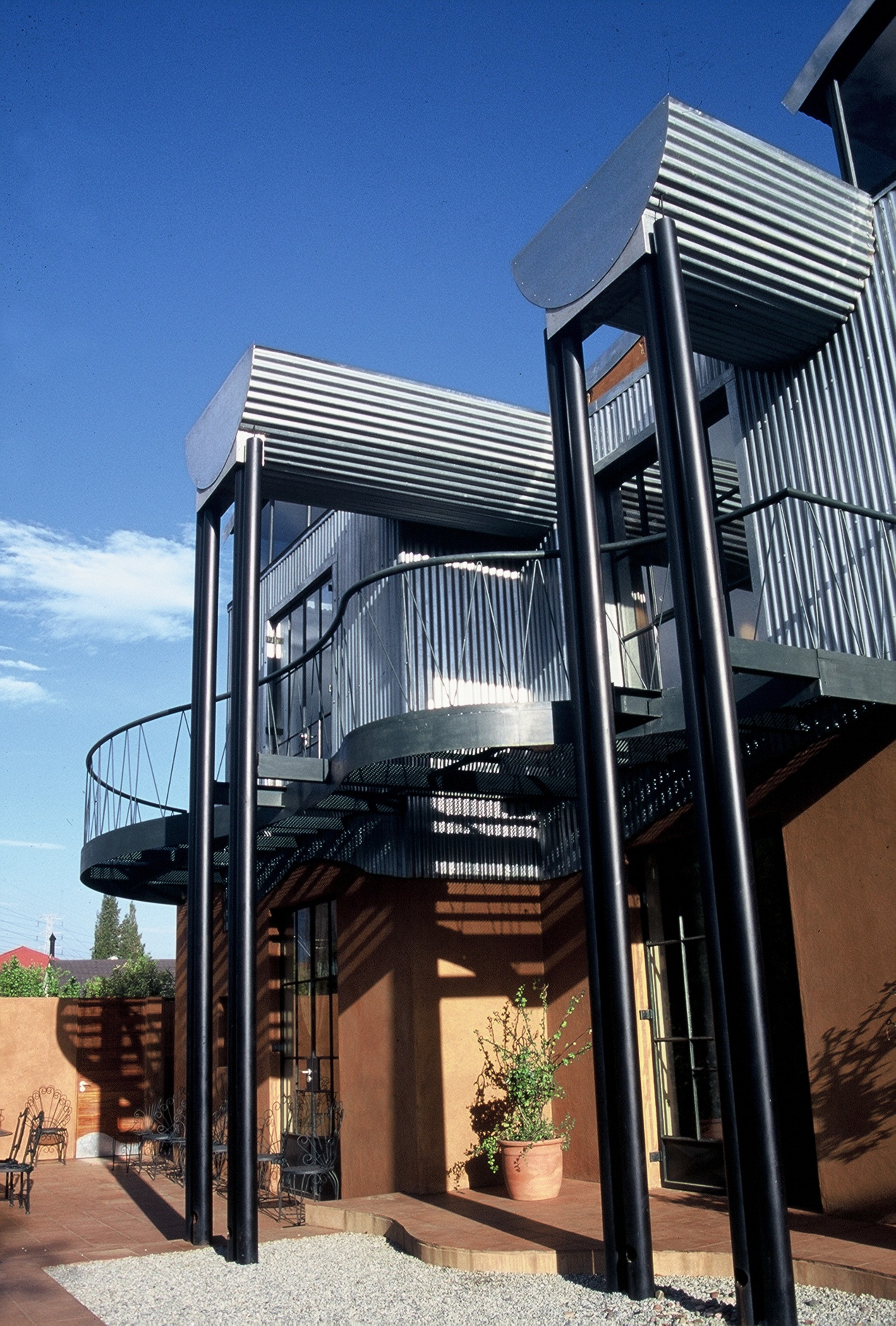 The brief - light, space and volume - inspired this conversion of a very ordinary suburban house into a home and office for a client's creative publishing business. Although much of the existing house has been retained it is unrecognisable.

Timber frame construction was chosen for the first floor addition as a light weight solution to building on top of an existing building. Corrugated iron sheeting was chosen as cladding in reference to the materials historically used in the area - it is used vertically to accent height.

Materials used are left in their natural state - red plaster, galvanised corrugate iron sheeting, stainless steel, oxided plaster, wrought iron, glass and colourful mosaics.

Different textures and colours, the interplay of light and shadow and the way curved geometry's meet rectilinear ones, all add to the graphic quality of this house.

The house is situated on a ridge, thus by adding one storey even greater advantage can be taken of the north / south views and aspects. The curving roof line echoes the surrounding koppies while high level windows allow the roof to float above the planes of the building. By segmenting the curve, both bedroom suites get east light. The box gutters over the entrance hall become roof lights filling the arrival area with dappled light.

The approach at the lowest level exposes the rock on which the building is built and presents separate entrances to the offices, cottage and house. A curved ramp leads to the front door which is framed by pairs of double height columns supporting high gutters and a balcony. The balcony squeezes out between the columns to cover the entrance.

The entrance hall is double volume with a layering of space - mosaic column bases grow towards the higher levels, the curved landing backs away from you. There are views through to the south and to the east and west through the living and dining rooms. There are always views out and through which extend the spaces and connect them to the garden. There are distant views to the koppies and views of the sky through high level windows.

This building stands proudly on the ridge, simultaneously elegant and fun.